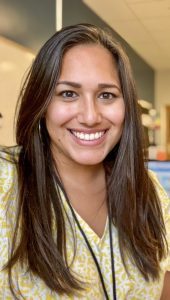 Alissa Hobart is an esteemed educator that has worked in several capacities. She has served as an elementary teacher, special education teacher, and as a founding team member for the first rural charter school in Mississippi. Originally from Wisconsin, Alissa graduated from Vanderbilt University and began her teaching career as a Teach for America Corp Member in Clarksdale, Mississippi. She completed her master's degree in Elementary Education from Delta State University through the Teach for America Graduate Fellows Program.
Thanks to the influence of her parents, teachers, and a particular literacy coach, Alissa discovered her passion for literacy. This is her second year serving as a literacy coach for the Mississippi Department of Education. She has presented professional development for schools, districts, and at the 2021 Mississippi Literacy Association Conference.
Outside of education, Alissa enjoys reading, baking, and spending time with her husband and their two rescue dogs.