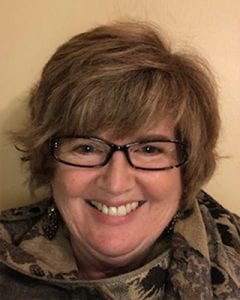 Kimberli McWhirter is a member of the Region 7 Comprehensive Center staff where she leads the Mississippi Grades 4–8 literacy project, providing support for sustainable innovations in evidence-based literacy instruction. She is also a member of the Florida Grades PK–3 literacy project and the Alabama Grades PK–3 literacy project, working collaboratively with project team members supporting evidence-based literacy instruction, interventions and resources. In addition, she serves as a member of an Region 11 Comprehensive Center external workgroup providing technical content expertise in literacy for Wyoming.
Ms. McWhirter has been an educator, both in and out of the classroom, for more than 23 years. She has held a variety of positions over the course of those years—from classroom teacher to state-level consultant—in settings ranging from urban to rural, across the state of North Carolina. She has provided support to schools and districts including trainings for teachers, instructional coaches, and administrators. She has provided technical assistance in the implementation of new programs, assessment protocols, and education legislation.
Ms. McWhirter enjoys spending time in her garden and traveling with her family. She lives in the beautiful mountains of Western North Carolina and loves taking advantage of nearby hiking trails with waterfalls, craft shows, art museums, and local theater.
EDUCATION: M.Ed. in curriculum and instruction from Lesley University; B.A. in psychology from San Diego State University
AREAS OF EXPERTISE: Early literacy, Grades K–3; Standards, curriculum, instruction, and assessment; School and district improvement; Educator talent equity and effectiveness; Evidence-based programs and practices; and Family and community engagement