Content Start
Over the last decade, principal supervisors have been tasked with increased responsibilities in instructional leadership, supporting principals by "visiting classrooms, interpreting and reviewing performance data, and providing professional development" (Casserly et al., 2013, p. 29). The focus on instructional leadership has been amplified by the pandemic and the need for learning acceleration. Now more than ever, it is essential for principal supervisors to engage as learners alongside their principals, build a strong understanding of the principal standards, and provide leadership coaching and support for the principal to encourage reflection and improvement (NIET, 2021). Principal supervisors can help retain principals by building relationships with and supporting them as instructional leaders.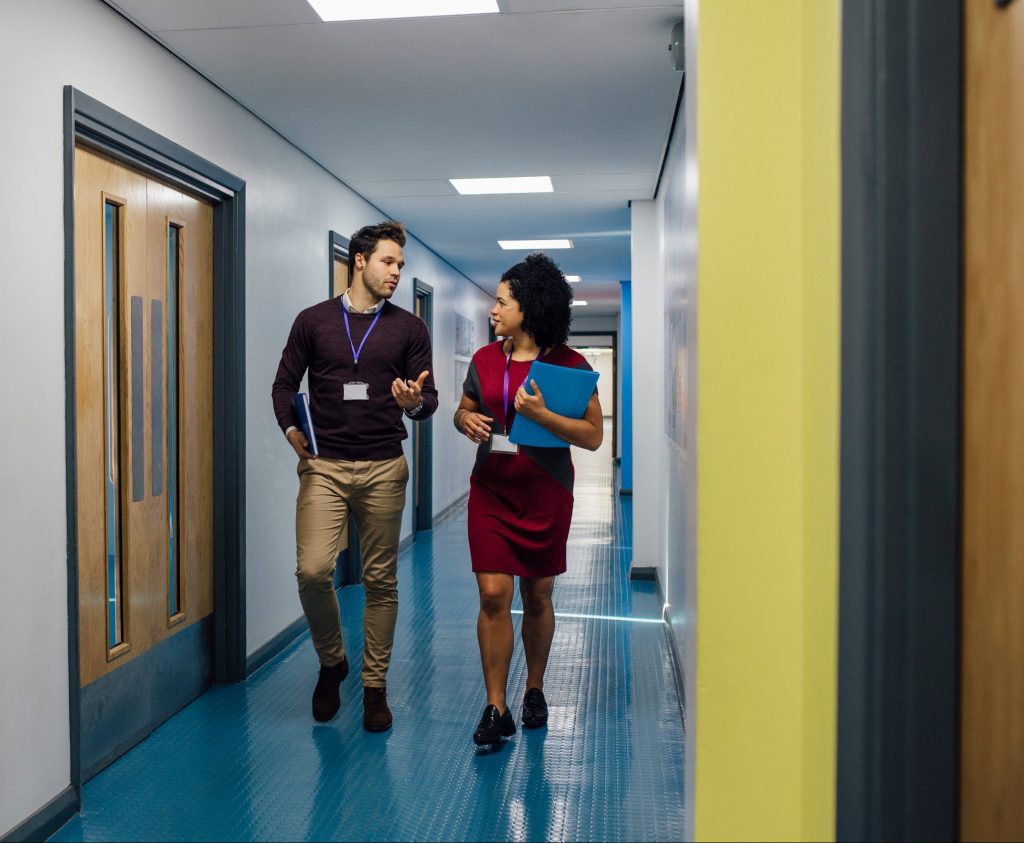 However, it is important to remember that, as district administrators, principal supervisors often have other job responsibilities. Principal supervisors continue to complete extensive administrative oversight responsibilities. Additionally, the individuals who support building leaders may have no experience as building leaders themselves. Rainey and Honig (2020) suggest that "some districts will need to fundamentally redesign the principal supervisor job responsibilities to make principals' growth as instructional leaders" a focus of the work.
"Even during more usual times, each central office staff person should be taking a hard look at their performance and focusing resources on what is most essential to and supportive of excellent and equitable teaching and learning in schools." (Rainey & Honig, 2020)
States and districts have a role to play in building the capacity of principal supervisors on research-based observation and leadership coaching best practices. They can take a proactive approach in planning supports, such as designing professional development, building coaching practices, and setting and communicating clear expectations around evaluation to empower the growth and retention of school leaders.
The following strategies may help states and districts support and leverage the role of principal supervisors.
States could develop guidance that defines the recommended skills, attributes, and dispositions of principal supervisors. Districts could utilize this when creating or revising local job descriptions for district administrators who serve as principal supervisors.
States or districts could develop resources and professional development to help principal supervisors shift their oversight relationship from compliance to continuous improvement.
States could develop a model process for ensuring interrater reliability of principal supervisors when applying leadership standards during the evaluation process. Districts could then adapt this training to their unique context and evaluation rubric.
Districts could lead professional development sessions for principal supervisors on how to conduct low-inference observations (i.e., without drawing conclusions and making judgments). This is particularly important for those with little experience conducting evaluations.
States or districts could invite principal supervisors to training sessions designed for school leaders. This has the benefit of strengthening relationships and increasing awareness of principal responsibilities and needs.
School leaders are under increasing pressure to accelerate student learning because of the pandemic, and turnover due to this pressure is a growing concern. We hope this blog helps you consider the importance of principal supervisors when it comes to resilience and retention in education leaders. When principals are supported, they want to stay.
Authors: Lori Vandeborne & Jack Schwarz, R7CC
References
Casserly, M., Lewis, S., Simon, C., Uzzell, R., & Palacios, M. (2013). Principal Evaluations and the Principal Supervisor: Survey Results from the Great City Schools. Council of the Great City Schools.
National Institute for Excellence in Teaching. (2021). The Untapped Potential of the Principal Supervisor: How support for school leaders should change. https://www.niet.org/assets/ResearchAndPolicyResources/untapped-potential-principal-supervisor.pdf
Rainey, M. I. H. L. R. (2020). A teaching-and-learning approach to principal supervision. Phi Delta Kappan, 102(2), 54–57. https://kappanonline.org/teaching-learning-approach-principal-supervision-honig-rainey/