Content Start
Ask any educator in Mississippi, and they will tell you the "Mississippi Miracle" is anything but miraculous. They know first-hand the phenomenal effort behind Mississippi's incredible gains, and Dr. Carey Wright would agree. The state's former superintendent states, "There's no magic bullet here. It's all about rolling up your sleeves. A lot of hard work" (Kaufman, 2022, para. 4).
That hard work is paying off. According to the National Assessment of Educational Progress (NAEP), student scores in Mississippi have risen faster than any other state since 2013, especially for the fourth grade. In 2019, Mississippi garnered national recognition by moving from 49th to 29th in the NAEP rankings. Results from the 2022 assessment showed continued progress, as Mississippi moved to 21st in the country, one of only three states to see increases in fourth-grade reading results during the pandemic.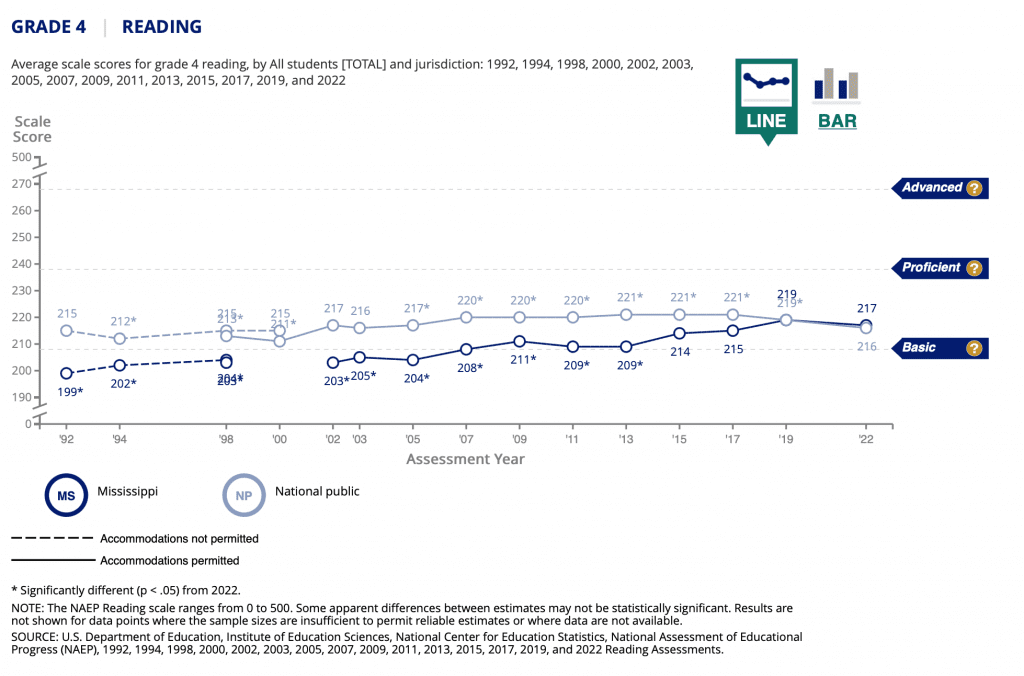 Source: The Nation's Report Card: Mississippi
Educational forums note several possible causes for this momentum: legislative commitment through the Literacy-Based Promotion Act, professional learning focused on the science of reading, standards-aligned instruction using high-quality instructional materials, prevention through increased early learning opportunities, dedicated community and institutional partnerships, ongoing analysis of data paired with targeted intervention, and intensive support of highly trained literacy coaches. According to Dr. Tenette Smith, Mississippi Department of Education's (MDE's) Executive Director for the Office of Elementary Education and Reading, "It has everything to do with the act's multi-pronged approach to boost reading proficiency" (Heubeck, 2023, para. 5). As Dr. Timothy Shanahan, an internationally recognized reading expert, observed, "It's not that they changed their test some year or played some game that made their scores look better. We've seen a lot of that kind of thing, and I've learned to be super-skeptical. When you get these kinds of gains over this period of time, something real must be going on" (Mahnken, 2022, para. 8).
Currently leading that "something real" at MDE is the State Literacy Director, Kristen Wynn, and her team of Assistant Literacy Coordinators and literacy coaches under the guidance of Dr. Smith.­­­ This division provides literacy support and training for K–3 educators and administrators in evidence-based instructional strategies across the state and literacy coaching support to low-performing schools identified as Literacy Support Schools.
New to the role in 2019 but not to the division, Wynn and her team very quickly found themselves facing one of the most significant challenges in recent education history—the COVID-19 pandemic, which shut down schools overnight. And like so many other educators, it didn't take them long to respond to the needs of teachers, students, and families, refining and expanding the framework established under the previous literacy leadership. When asked what key factors played a role in the NAEP reading scores for 2022, especially within the context of these global events, Wynn noted, "Our strategic focus remained on improving literacy supports before, during, and after the pandemic."
THE BEFORE: MAKING CONNECTIONS
Prior to the pandemic, Wynn and her team began the process of updating the state's Comprehensive Literacy Plan. Referring to the Assistant Literacy Coordinators as her "close-in" team, Wynn, along with LeighAnne Cheeseman, Kelli Crain, Jill Hoda, Lori Stringer, and Assessment Coordinator Melissa Beck, reimagined the literacy plan as a "living document" that would support the implementation of evidence-based literacy instruction from birth to Grade 12 and serve as a guide to districts and schools. Initial revision meetings, facilitated by the Region 7 Comprehensive Center, included participants from multiple divisions across MDE.
The State Literacy Director, along with the Assistant Literacy Coordinators and literacy coaches, also continued to hold Regional "Families as Partners" Parent Meetings, providing an overview of the Literacy-Based Promotion Act's connections to literacy instruction and assessment, as well as strategies to help families improve student reading skills at home. These meetings, held in the fall, offered opportunities for families to interact one-on-one with Wynn and the MDE literacy team, gaining a deeper understanding of the intent of the legislation and its direct impact on their child's literacy learning experience.
THE DURING: REACHING OUT
Noting the ever-increasing importance of family engagement as the pandemic progressed, Wynn's team launched an updated version of the Strong Readers website, which includes activities essential to building foundational reading skills and access to a free online library, in June 2020. Wynn stated, "With the extended school closures this past school year, it is more important than ever to keep children engaged in reading over the summer" (MDE, 2020, para. 6).
The MDE literacy team's outreach didn't stop there. The disparities in internet access were an additional challenge, especially given the state's largely rural communities. Partnering with Mississippi Public Broadcasting (MPB), members of Wynn's team coordinated the cross-departmental development of video lessons aligned to Mississippi instructional standards and delivered by exceptional educators. Posted on the MPB Classroom TV channel, the videos provide access to high-quality instruction for students across the state, including a repository of reading videos focused on the pillars of effective reading instruction. Additional classroom support was shared through the release of the Virtual Literacy Instruction Guide for K–5 Teachers, a resource that included scheduling and lesson plan examples for distance learning.
Teamwork and coaching support have been consistent tenets of Wynn's approach to supporting the implementation of evidence-based literacy practices, even during the pandemic. Beginning in the summer of 2021, the division awarded recognition of the first Mississippi Emerging Science of Reading Schools, reflected in the work of classroom teachers, administrators, and support staff that "exemplified a change of instructional practices and embodied a school culture that focuses on building skillful, strong readers in kindergarten through Grade 3" (MDE, 2022a). Literacy coaching was continually provided through virtual platforms and professional learning communities during school closures.
AFTER: VISION AND ACTION
As the pandemic recedes and educators, students, and families recover, "Keeping our expectations high for students and teachers and 'sticking to' a comprehensive approach to implementing our Literacy-Based Promotion Act" remains essential for Wynn and her team.
With that goal in mind, the division has expanded its support for literacy leaders by establishing the Mississippi Literacy Leaders Network, building the capacity of district and school leadership in Grades K–5 through collaborative learning, problem-solving, and job-alike networking opportunities. They have also added the collaborative development, with the Region 7 Comprehensive Center, of online modules facilitating the use of the Mississippi K–3 Learning Walk observation tool to improve literacy learning in the classroom, with the goal of expanding its use beyond Literacy Support Schools.
Scaling up the success of the K–3 model of structured literacy is another division goal. "While our state's scores are encouraging, they also underscore the need to press forward to ensure all students achieve proficiency," former Interim State Superintendent of Education Dr. Kim Benton says. "In particular, we have more work to do in 8th-grade reading and math to bring student performance up to the national average and then continue to improve" (MDE, 2022b, para. 4). Wynn and her team understand that well, pointing to the division's current partnership with REL Southeast "to improve adolescent literacy skills by ensuring that social studies, English Language Arts, and science teachers know how to Integrate literacy strategies into their content areas" (Lee, 2022). Extending the focus to literacy in the upper grades is already high on their list.
LOOKING AHEAD…
Wynn's list is a long one, as she and her team continue to expand their comprehensive approach to changing Mississippi's literacy legacy, embodying an observation made earlier by Dr. Wright, "Each year we tweak our methods, but the goals always remain the same." Firmly focused on those goals, the MDE literacy team, including Wynn, is back in the field again, this time providing guidance and support to promote the effective selection and implementation of high-quality instructional materials, a key component of effective instruction.
When asked about what advice she would give to other states on the reading proficiency journey, Wynn replied, "A policy is only as good as its implementation! Evaluate or re-evaluate your implementation strategy. Is there a comprehensive approach to improve literacy instruction in place, or do your efforts focus on one area? For example, does your state have a high-quality instructional materials initiative without providing teachers with training aligned with the science of reading? Or does your state offer literacy professional development without providing ongoing, job-embedded coaching support?" And "it takes time," Wynn says, adding that to be successful with this kind of change, states will need to "stay the course."
This is all part of educators' hard work to deliver on the promise of literacy for all of Mississippi's students; not a miracle, but the foundation for many miracles—for every child, in every classroom.
Authors: Kimberli McWhirter (Lead), Angela Rutherford, Ruth Gumm, Angie Caldwell (Region 7 Comprehensive Center), with quotations from MDE State Literacy Director, Kristen Wynn.
References
Heubeck, E. (2023, June 19). Mississippi Students Surged in Reading Over the Last Decade: Here's How Schools Got Them There. EdWeek. https://www.edweek.org/teaching-learning/mississippi-students-surged-in-reading-over-the-last-decade-heres-how-schools-got-them-there/2023/06
Kaufman, D. (2022, October 8). In Mississippi, a Broad Effort to Improve Literacy Is Yielding Results. The New York Times. https://www.nytimes.com/2022/10/06/education/learning/mississippi-schools-literacy.html
Lee, L. (2022). Improving Literacy in Mississippi –The Journey Continues. REL Southeast. https://ies.ed.gov/ncee/rel/Products/Region/southeast/Blog/100838
Mahnken, K. (June 20, 2022). After Steering Mississippi's Unlikely Learning Miracle, Carey Wright Steps Down. The 74. https://www.the74million.org/article/after-steering-mississippis-unlikely-learning-miracle-carey-wright-steps-down/
Mississippi Department of Education. (2020, June 3). MDE Launches Website to Help Children Become Strong Readers. https://msachieves.mdek12.org/mde-launches-website-to-help-children-become-strong-readers/
Mississippi Department of Education. (2022a, August 8). MDE names 7 Mississippi Emerging Science of Reading Schools for 2022-23. https://www.mdek12.org/news/2022/8/8/MDE-names-7-Mississippi-Emerging-Science-of-Reading-Schools-for-2022-23_20220808
Mississippi Department of Education. (2022b, October 24). Mississippi maintains NAEP 4th grade reading gains despite national decline in all subjects. https://www.mdek12.org/news/2022/10/24/Mississippi-maintains-NAEP-4th-grade-reading-gains-despite-national-decline-in-all-subjects_20221024
The Nation's Report Card. (2022). Mississippi Overview. https://www.nationsreportcard.gov/profiles/stateprofile/overview/MS?cti=PgTab_OT&chort=1&sub=RED&sj=MS&fs=Grade&st=MN&year=2022R3&sg=Gender%3A%20Male%20vs.%20Female&sgv=Difference&ts=Single%20Year&tss=2022R3&sfj=NP