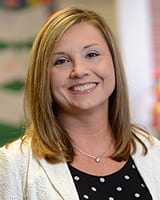 Angela S. Rutherford, Ph.D., serves on the Region 7 Comprehensive Center leadership team, as well as provides literacy support across all states in the region.
Dr. Rutherford has more than 30 years of experience in public education. For the past 15 years, she has served as a professor at the University of Mississippi. During this time, she has held the position of director of the Center for Excellence in Literacy Instruction and managed multiple grant projects focused on providing technical assistance and professional development. Within those grant projects, Dr. Rutherford has collaborated with states, districts, and schools for program development, design, implementation, and evaluation. She has consulted and advised states, districts, and schools in the implementation of evidence-based literacy programs, including the implementation of successful literacy programs for disadvantaged students in low-performing, high-need, rural schools and districts.
She is a nationally certified trainer of Language Essentials for Teachers of Reading and Spelling and has presented modules since 2010. In addition, Dr. Rutherford has actively served on numerous national, regional, state, and local committees and task forces focused on ensuring that students receive equitable access to effective teachers.
EDUCATION: Ph.D. in reading education from Auburn University; M.Ed. in leadership and administration from University of Southern Mississippi; B.S. in elementary education from University of Southern Mississippi
AREAS OF EXPERTISE: Reading/literacy; Teacher preparation; and Teacher and leader professional learning