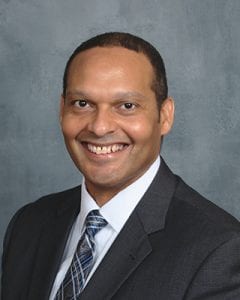 Archie E. Hill, Ph.D., is a Regional 7 Comprehensive Center staff member and the Mississippi state liaison, supporting district and state staff in implementing and evaluating educational initiatives. He also supports the implementation of Florida's new school standards and the building of Florida's leadership capacity, culture, and infrastructure.
Dr. Hill provides professional development in the areas of school improvement and effective family and community engagement to improve literacy through partnerships in rural and disadvantaged communities. Additionally, he serves as an evaluator for the Nevada Department of Education's Native Youth Community Project grant where he assists in designing survey instruments and protocols and in conducting qualitative and quantitative data analyses and report preparation.
With more than a decade of experience in research design, data collection, and quantitative as well as qualitative analytic approaches, Dr. Hill has served as a U.S. Department of Education Magnet Schools Assistance Program compliance monitor for FY2013 grantees as well as for other grants.
EDUCATION: Ph.D. in education from George Mason University; M.S. in applied sociology from Norfolk State University
AREAS OF EXPERTISE: Program management; Equity; Literacy; Family and community literacy partnerships; School turnaround; and Evaluation