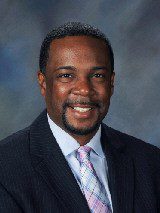 Dr. Carlos Nelson has been in the education field for more than 25 years, serving in the capacity of a classroom teacher, coach, interim principal, assistant principal, principal, federal programs coordinator, curriculum director, career technical education coordinator, textbook coordinator, and district drug testing coordinator. He is currently the superintendent of Sheffield City Schools.
During his career in education, Dr. Nelson has been an active member of the Council of Leaders Alabama Schools (CLAS), the Alabama Association School Curriculum Directors (AASCD), and Shoals Scholar Dollars (SSD), where he serves on both boards of directors. He is also the past president of AASCD. He has had the opportunity to mentor intern students during their practicum seminars at the University of North Alabama and Western Governors University. Dr. Nelson has served on AdvancED Engagement Review Teams and directed the system's AdvancED Accreditation process for the Sheffield City School System. He has presented at numerous sites throughout the United States as an advocate for education and is a member of the Alabama Education Association (AEA), National Education Association (NEA), and Sheffield Education Association (SEA).
Dr. Nelson received his Bachelor of Science in Secondary Education Social Science and master's and educational specialist degree from the University of North Alabama in Educational Leadership. He earned his doctorate degree in Educational Leadership from Samford University.