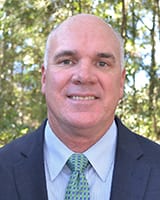 Patrick Wnek, Ed.D., is the executive director of the North East Florida Educational Consortium. The Consortium serves 13 rural school districts, the PK Yonge Developmental Research School at the University of Florida, and the Florida School for the Deaf and the Blind.
Dr. Wnek works closely with member districts on initiatives to support data analysis, curriculum and instruction, college and career readiness, human capital management, and district and school leadership. He serves on the Association of Educational Service Agencies' Executive Council, the North Florida Economic Development Partnership's Executive Committee, and as an advisory board member for the Florida Organization of Instructional Leaders.
He graduated from the University of Florida with an Ed.D. in educational leadership. He enjoys working with diverse educational and business partners to provide educational opportunities for all students.